I have a BIG birthday coming up this weekend. And by big, I mean one of THOSE milestone birthdays that can mess with your vanity a bit. I'm only half joking. I've never really paid much attention to age. Neither mine nor anyone else's age ever seemed to matter very much.  I was surprised and little apprehensive when I realized that the prospect of turning 40 was causing me more chagrin that I cared to admit. At first it was just a gnat-like bit of vex that would suddenly and randomly set about to bedevil me.  Not a real worry, easy to swat away and forget. But over the last week, I've been completely assaulted by the prospect of getting....OLD...ME!
Excuse me whilst I remove my tongue from cheek. I know that I'm really making much ado about nothing. Still, I find it humorous that I'm going to be FORTY.  Most days I feel like I'm barely hiding that fact that I'm really just a kid. Grown ups just seem so...boring. So how the heck did I get so OLD?
Luckily, I've hardly had time to let the thought vex me overly much. I've been showered with gifts, both the traditional bows-and-paper-wrapped surprises and the hearty, soul satisfying kind this week. The UPS man jokingly noted today that I was "becoming an every day delivery." I don't mind at all! What better way to keep my mind of the ever encroaching number of DOOM than to relish in the bauble-shower-of-birthday-gifts? For most of us, it's only once a year that the world celebrates us as individuals and we may as well enjoy it. That's what I say.
Oh YES! That is 8GB of RAM for my sweet new Sony Vaio laptop! Woot!  And the blue and white striped mini make up case is from Target. Apparently even Target thinks I'm worthy of gifts this week ;)  The pink gift that is always the perfect size and color . . . a giftcard to VS.
And lest you worry that all this attention is going to spoil me, I've been on a reading, worshipping, thanksgiving adventure that all started the day I picked up "One Thousand Gifts" by Ann Voskamp at the Thomas County Public Library. This book will turn your life on it's ear in the most phenomenal way. If you've ever struggled with marrying the idea of the Creator of the universe with your little humdrum life planted in a tiny square of red Georgia clay, then I highly suggest you get a copy of this book as quick as you can. One small experiment with eucharisteo, thanksgiving with joy for the gifts everywhere, the ugly-beautiful life that we toil with each and every day and you will be amazed. I didn't even realize what an insufficient grasp of the concept of gratitude I had until I began to read this book. Trust me, you will know before you finish the opening line of the first chapter that this is no ordinary Jesus girl book. This Ann Voskamp is a writer! He prose is lyrical, thoughtful, and well constructed. I can't remember when I've had a more enjoyable read. I've been keeping my own list of gifts as part of an personal gratitude experiment and I plan to incorporate it here on a separate page devoted especially to those gifts.
You can find Ann's blog here.  There are links to find the book, aids to print out to help you get started with your own list and more. All kidding aside, I think finding this book has been the best gift of all.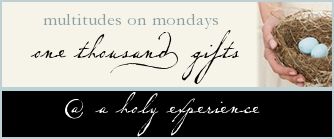 P.S. If you'd like to add to my gift shower, feel free to send goodies my way. The address is on my website ;)